| 13 Cápitulos | 4 DVD FULL | Español Latino | Inglés | FS-MU-FK |
Impresionante Serie de TV 2010 Spartacus Blood And Sand.
Hola Amigos en esta ocasion les dejo esta Increible Serie, a quienes aun no la han visto (por nada del mundo se la pierdan) y a quienes ya la vieron ahora la dejo en DVD FULL Audio Español Latino / Ingles / Subtitulos, etc, ya que la mayoria cuando la miramos nos toco verla en ingles.
La primera temporada consta de 13 episodios de alrededor de 55 minutos cada uno que se comenzaron a emitir el 22 de enero de 2010. Cabe destacar la gran cantidad de violencia y sangre en la serie, además de numerosas mutilaciones corporales. También hay una gran cantidad de desnudos y escenas de sexo explícito.
Inicialmente, la serie fue renovada para hacer la segunda temporada. Sin embargo, a Whitfield (quien interpreta a Spartacus), le fue diagnosticado un linfoma no-Hodgkin, por lo que fueron detenidas las grabaciones. La cadena Starz anunció que está empezando la filmación de una precuela de la serie, titulada Spartacus: Gods of the Arena, la cual se espera esté al aire en enero de 2011.
La serie narra la vida del célebre Espartaco, desde su captura a manos de los romanos en la región de Tracia pasando por su vida en la escuela de gladiadores de Batiatus hasta su rebelión y huida junto a sus compañeros gladiadores.
La historia narra todas las peripecias de Espartaco dentro del ludus, su convivencia con el resto de gladiadores, cómo los romanos tratan a los propios gladiadores y las vivencias de Batiatus, el lanista, y sus intentos de ascender socialmente, utilizando sin escrúpulos a los gladiadores.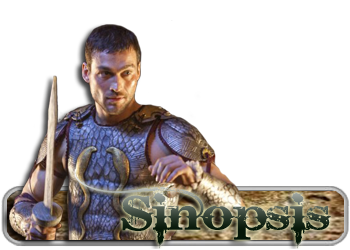 Traicionado por su país, convertido en esclavo, renacido como guerrero. Spartacus: Blood and Sand es la historia más gráfica y visceral del gladiador más famoso de Roma. Presentando un reparto estelar, esta serie presenta una mezcla única de acción, efectos gráficos y brutales batallas.
Cuando es separado del amor de su vida, Spartacus es forzado a unirse a la arena, donde una dolorosa muerte es el entretenimiento principal. El debe luchar por la supervivencia, acercarse a sus amigos y jugar a la política en este mundo de corrupción, violencia, sexo y fama.
Spartacus será seducido por el poder y atormentado por la venganza, pero su pasión le dará la fortaleza para superar cualquier obstáculo, en este cuanto moderno de muerte y honor.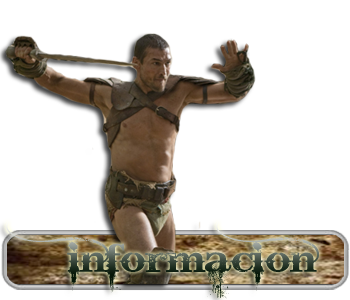 TÍTULO ORIGINAL:
Spartacus: Blood and Sand (TV Series)
AÑO: 2010
DURACIÓN: 60 min.
PAÍS: Estados Unidos
DIRECTOR: Steven S. DeKnight (Creator), Rick Jacobson, Michael Hurst, Jesse Warn
GUIÓN: Brent Fletcher, Aaron Helbing, Todd Helbing, Miranda Kwok, Steven S. DeKnight, Tracy Bellomo, Andrew Chambliss, Daniel Knauf
MÚSICA: Joseph LoDuca
FOTOGRAFÍA: Aaron Morton
REPARTO: Andy Whitfield, Lucy Lawless, John Hannah, Manu Bennett, Peter Mensah, Nick Tarabay, Viva Bianca, Lesley-Ann Brandt, Jai Courtney, Erin Cummings, Craig Parker, Eka Darville, Antonio Te Maioho, Ande Cunningham, Daniel Feuerriegel, Katrina Law, Kyle Pryor, Matt Gillanders
PRODUCTORA: Starz Media / Starz Productions; Productor: Sam Raimi
WEB OFICIAL: starz.com/originals/spartacus
GÉNERO: Serie de TV. Acción | Histórico. Antigua Roma



Tamaño:
4.37 GB
Tipo de Imagen: IMG
Source: DVD9 R1
Duración: 45 Min. Aprox. X Capit.
Norma: NTSC
Pantalla: Widescreen - 16:9 - 853x480
Audios/Canales: Inglés 5.1
Subtítulos: Inglés - Esañol Latino
Menú: Si
Extras: Si
Discos: 4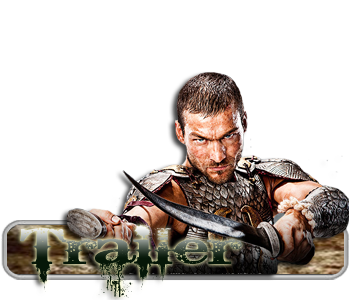 link:
http://www.youtube.com/watch?v=4WXDJPaHuR4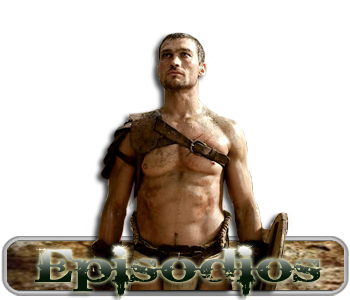 Episodio 01:
The Red Serpent
Episodio 02: Sacramentum Gladiatorum
Episodio 03: Legends
Episodio 04: The Thing in the Pit
Episodio 05: Shadow Games
Episodio 06: Delicate Things
Episodio 07: Great and Unfortunate Things
Episodio 08: Mark of the Brotherhood
Episodio 09: Whore
Episodio 10: Party Favors
Episodio 11: Old Wounds
Episodio 12: Revelations
Episodio 13: Kill Them All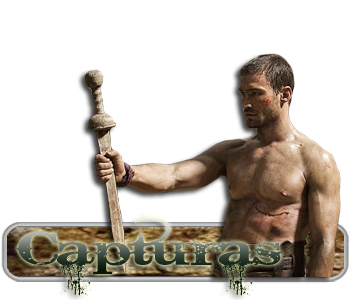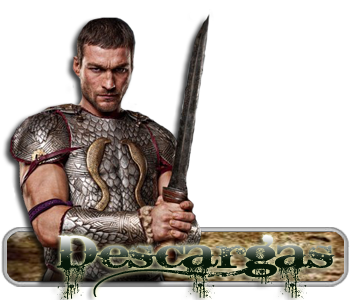 DVD Disco 1


01/22/2010 - Episode 01: The Red Serpent

01/29/2010 - Episode 02: Sacramentum Gladiatorum
02/05/2010 - Episode 03: Legends
02/12/2010 - Episode 04: The Thing in the Pit



http://www.megaupload.com/?d=9CI9CHR0
DVD Disco 2


02/19/2010 - Episode 05: Shadow Games

02/26/2010 - Episode 06: Delicate Things
03/05/2010 - Episode 07: Great and Unfortunate Things
03/12/2010 - Episode 08: Mark of the Brotherhood



http://www.megaupload.com/?d=HPYW8PL2
DVD Disco 3


03/19/2010 - Episode 09: Whore

03/26/2010 - Episode 10: Party Favors
04/02/2010 - Episode 11: Old Wounds
04/09/2010 - Episode 12: Revelation




http://www.megaupload.com/?d=5O96XMWS
DVD Disco 4


Episode 13: Kill Them All

Special Features: - See on Disc




http://www.megaupload.com/?d=313WLJTV